We'll knock your socks off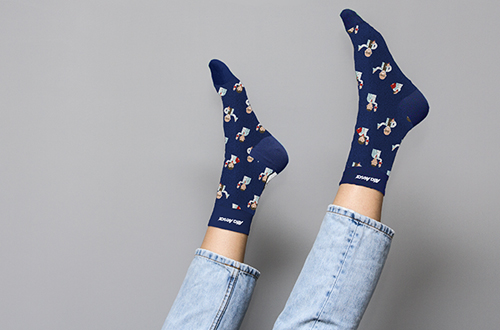 Free chemistry print socks with
Alfa Aesar purchase*
You have many choices when it comes to purchasing chemicals, and we are confident that if you give us a try you will be very satisfied with our products and our service. Alfa Aesar offers over 38,000 research chemicals, metals, and materials, including over 5,000 biochemical products to provide you with a complete selection for all your research needs.
For a limited time, we'll give you a pair of chemistry print socks, when you order $300 Alfa Aesar products in one purchase order through Thermo Fisher Scientific*.
Not only will our products help you achieve results, our one-of-a-kind chemistry socks will help you stand out in the lab!
Browse for more Alfa Aesar products
Redemption instructions
Once you have purchased our products, complete the form, including your order number. We will send you a pair of our one-of-a-kind chemistry socks!
Terms & Conditions
This promotion is open only to customers in Australia who purchase a minimum of $300 AUD in Alfa Aesar branded products in a single purchase order. Offer valid for qualifying orders received no later than 31 Dec 2018, or until gift supplies are depleted, whichever comes first. Limited to 1 free pair of Alfa Aesar Chemistry Socks per customer. Customer can use this offer only once. Healthcare professionals may not participate in this promotion. Government Officials may not participate in this promotion. The term Government Official includes anyone who acts in an official capacity for or on behalf of a government entity, department or agency. By placing the order, you warrant that you are not prohibited by employment, contract, or law from accepting a gift from Thermo Fisher Scientific. Cannot be combined with other discounts or promotions. Offer void where prohibited, licensed, or restricted by federal, state, provincial, or local laws or regulation or agency/institutional policy. Other restrictions may apply. Specifications, terms and pricing are subject to change. Please consult your local sales representative for details.