Join the fight against
antimicrobial resistance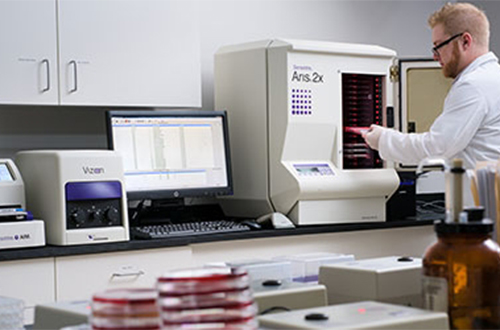 Ready to satisfy your AST requirements?
Satisfy your antimicrobial susceptibility testing (AST) requirements with high performance automated and manual test products to help ensure patients are on the most appropriate treatment plan. Our AST products are designed with the user in mind and with what matters most: accurate, reliable and consistent results.
Customised AST

Choose from over 240 antimicrobials to design a Thermo Scientific™ Sensititre™ Custom Plate tailored to your formulary, dilution ranges and patient population.
Sensititre custom plate capabilities enable you to design AST tailored to your formulary and patient population. With dilution ranges of your choice and the ability to update formats conveniently, you get relevant results that are based on real-time resistance trends and local epidemiology, allowing you to improve clinical success and effectively manage resistance in your institution.
One of the widest, most up-to-date selections of antimicrobials
Through collaboration with many pharmaceutical companies, the Sensititre System gives you access to the latest antimicrobials, including: Dalbavancin, Ceftazidime/Avibactam, Tedizolid, Oritavancin and Ceftolozane/Tazobactam.
Automated AST

UAchieve true minimum inhibitory concentration (MIC) results using an antimicrobial susceptibility testing system which offers flexible, customisable testing options to accommodate laboratories of all sizes. The Thermo Scientific™ Sensititre™ System utilizes true MIC results, versus extrapolated MIC results, for better informed therapeutic choices—crucial in the fight against antimicrobial resistance.
Susceptibility Plates for Automated Reading
Automated Susceptibility Testing Instruments
Automated Susceptibility Testing Software
Manual AST

Battle antimicrobial resistance with manual AST and MIC testing methods using a range of antimicrobial susceptibility testing discs and M.I.C.Evaluator strips.
MIC Strips
Antimicrobial Susceptibility Disks
Susceptibility Plates for Manual Reading
Susceptibility Hardware